SmartStacker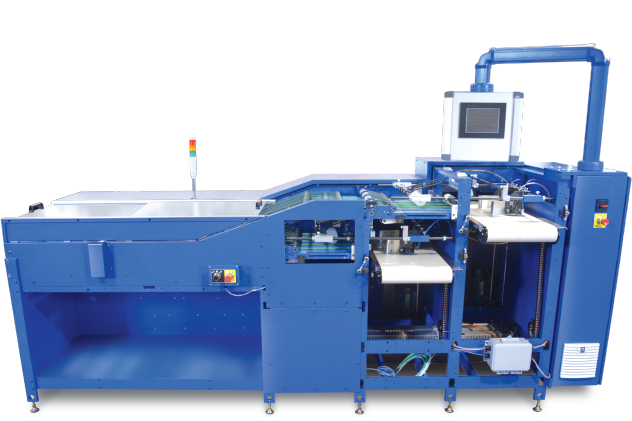 Innovative stacking system solution
At Super Web, we develop and manufacture world-class presses and integrated finishing solutions.
Our innovative WEBJet™ SmartStacker features two separate sheet deliveries in one unit to allow sheet sets to be continuously delivered to the operator without stopping or slowing down the press. As the printed web is cut on the WEBJet™ 200D inkjet press, the stacker offsets the sheets to create defined sets of statements or book blocks. When the capacity of the first stacker is reached, incoming cut sheets are diverted to the second stacker, enabling faster, more efficient printing and stacking.
A full range of solutions.
The WEBJet™ SmartStacker, in conjunction with the Memjet-powered WEBJet™ 200D, is designed to provide Direct Mail, Transaction and Commercial Printing customers with a full range of solutions for handling today's biggest printing challenges. Together they enable the use of variable data to personalize content while printing smaller production runs, all while driving down operational cost. The WEBJet™ 200D also prints on a wide range of substrates, and provides an integral duplex function so end users can unwind the paper, print on both sides, and then cut, perforate and stack materials — all on the same machine.

Benefits of the WEBJet™
Innovative stacking system
Integrated finishing for less maintenance
Reduces operational costs
Built for high quality over long duty cycles
Exceptional customer support
SmartStacker Specs
General Specs:
SmartStacker Dimensions 131" L x 49" W x 52" H
Optional conveyor dimensions: 112" L x 23" W x 30" H
Sheet sizes 8.5"x11", 8.5"x14", 8.5"x17", 11"x17"
Paper weight 10lb bond to 110lb index
Max stack height 10"
Max stack sheet count 2000 (@ 24lb index)
Minimum stack sheet count 250
Single stream / Dual stream fed
Straight stack or offset stacking
Offset available for all sheet sizes and press speeds, minimum grouping of 20 sheets with slit and merge configuration
Compressed air input 90 psi at 2.5 cfm
Offsetting
User option to stack in offset or straight stack mode
User option to offset via barcode indicator on document
Placement of readers can be adjusted on SmartStacker to allow for flexibility in the location of the barcodes
Sensors, Alarms and Safety Features
Height sensors on stacker to trigger changing of stacks when max height is reached
Max height limitation will take precedence over operator-entered stack sheet counts
Emergency stop feature for both the SmartStacker and the WEBJet™ 200D
Stacker jams will trigger the eject gate to open
Stacker will remain on and reset in the event of a press fault or delay in receipt of product
Light tree indicator and audible alarm will activate when jobs are nearing the end of the exit conveyor
Setup Requirements
Barcode indication for offsetting
Add data in column 38 of 2-D matrix barcode, a "1" indicates the first page of an offset job
If the following pages of an offset job do not contain data in this column, the next "1" value triggers a new offset
Set stack height cannot change in the middle of a job run
Job run must consist of all straight stack or all offset jobs
Exit Conveyor
Optional exiting conveyor available to move product 90 degrees from SmartStacker
Moves 2 stacks of product from the SmartStacker at a time for all supported cutoff sizes
Accumulates and delivers up to 4 stacks at one time (11" cutoff sizes only) providing the operator several minutes to remove product
Comes fully assembled and configured; requires no additional operator support
Easily removable from SmartStacker for stacker maintenance or configuration changes
Light tree indicator and audible alarm will activate when jobs are nearing the end of the exiting conveyor

Super service. Super fast.
Our SuperCare™ service maintenance program connects you to highly trained technicians within an average of 15 minutes. You're a phone call away from remediating technical, mechanical or workflow issues.